Custom bathroom design
Renovating a bathroom can be equal parts exciting and scary. Once you've made the decision, you can't wait to say goodbye to those outdated tiles and that retro vanity. At the same time, the thought of planning and designing the remodel can be daunting. You've watched every home reno program on television and you think you know what you like, but will it fit in your space? Will you have enough storage? Will it flow with the rest of the house?
What you really want is to speak to someone who understands your concerns and can put your mind at ease.
Giuselle Bathrooms have been delivering custom and designer bathrooms in Sydney for over 25 years. We've developed our process to deliver the quality you expect with the passion you deserve.
During the discovery and design stage, everything is open for discussion. Our bathroom consultants want to see pictures, photos, magazines. If you've got a Pinterest Board, let us see it. If the bathroom is part of a larger renovation, we want to know. The more detail you can give during the discovery and design phase, the easier it is for our designers to turn your ideas into concepts, and then into reality.
It's in this stage that we look closely at the primary users and function of the bathroom. Is it a family space to accommodate four or more people? Is it an elegant ensuite to replicate your favourite day spa? Is it a dark, tiny space that needs to be made light and bright and welcoming? We'll come and take a look and then sit and discuss what it is you want us to do.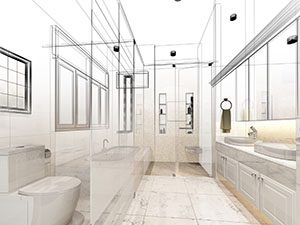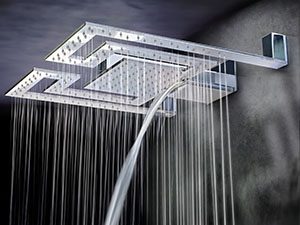 Once we have a clear understanding of how you want the space to work, we then get started on the detail. We carefully consider the current space and positioning of the fixtures and fittings. Does shower spray leave the floor a wet mess? Can cabinet doors and drawers open fully? Is the toilet the current focal point of the room, rather than the centrepiece bath you want to install? By addressing these details, we take your bathroom to next-level gorgeous.
After placement has been finalised, you have a plan for the layout of your new bathroom. You can now make your interior selections with a clear plan that outlines size, scale and ratios.
It's at this point, Selection, that our clients can get the decorating wobbles. But there's no need to worry. We have an interior design consultant that can help you every step of the way. We can provide advice on choosing everything you need including:
Tiles
Taps and hardware
Vanities
Shower screens
Toilets and cisterns
Mirrors
Baths
Cabinetry
Countertops
Lighting
Ventilation
Paint colours
Accessories
LAYOUT PLACEMENT & EXECUTION PLANNING
Once we know what you want to include with your bathroom design, we will first give consideration to where we will position our materials & fixtures such as the shower & toilet. As an example, having a screen-free or semi-open shower, we will also take into account the direction of spray when water is running from the shower. We understand that the last thing you want to is to see your toilet or vanity covered in water. If the design is to have a closed-in shower, we then need to allow enough room for doors to swing open for instance. From here, we can decide where to position your toilet so that we can provide enough distance between the toilet and shower to avoid a wet mess, or install a floor-to-ceiling glass screen to create a barrier. If space is tight, a concealed cistern is a practical choice and won't overwhelm the space. Our goal is to not let the toilet be the focal point in your bathroom design. We will aim to show off other features like your bathtub or vanity, by positioning them where the eye will most likely be drawn to first.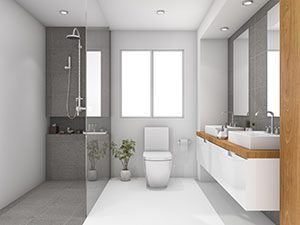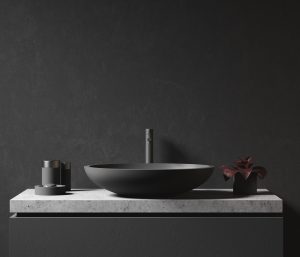 Once everything has been selected and you're over the moon with your choices, we move into the final phase of your bathroom renovation – planning and delivery.
Our aim is to make the process as painless as possible.
After speaking with hundreds of clients, we know that poor communication is the greatest frustration of anybody undertaking any form of renovation. If you're having your bathroom ripped out, you want to know when it's going to start, when it's going to finish and how you may be inconvenienced during the process. All so you can make the necessary alternative arrangements.
During our Planning and Delivery phase, your project manager will discuss with you:
How your renovation will be carried out from day one to completion
How long your bathroom will be unavailable for use
If you need to get an outside shower and toilet delivered
Expected delivery dates of materials and supplies and best place for storage
Any 'house rules' that we need to know about